The Indictment of Donald Trump
By: Harvey A. Silverglate August 2, 2023
Today I am taking the unusual step of sending you four pieces – only one of which I've authored.
First, there's a Boston Globe column by my friend Scot Lehigh. I've known Scot for many years. We met when he was a columnist for the fabled Boston Phoenix, edited by the equally fabled Peter Kadzis. Peter gave me the opportunity to write my "Brief Cases" column, concerning major civil liberties and criminal law developments often not reported accurately and fairly by the major news media.
Second, the Globe has published my letter-to-the-editor, in which I disagree with Scot's assessment of the recent action of special counsel Jack Smith, who yesterday announced the indictment he has convinced a grand jury to issue against former president Donald Trump.

Read my letter -to-the-editor: Eastman's lawyer: Trump indictment smacks of a partisan takedown
Third, I've included a link to a television interview that I did on the Eastman case for interviewer Laura Ingram of Fox News: https://www.foxnews.com/video/6332327509112.
Fourth, I've included a link to another television interview that I did for CNN reporter Poppy Harlow: https://www.youtube.com/watch?v=6MlBAYYS9NM.
I will not further comment on any of these four pieces, except to say that since it was announced that I was asked by Attorney Charles Burnham to work with him in representing John Eastman, I've received anguished and at times vituperative communications – by email, postal letter, or telephone – from colleagues, acquaintances, and total strangers, asking me how and why I came to represent "a Trumper." My response is always the same: (1) I am a criminal defense lawyer, and Eastman is under threat of indictment, and (2) I found this a particularly compelling matter because, after careful study of the pertinent facts and legal doctrines (including the Constitution's First [freedom of speech] and Sixth [the right to effective legal representation in criminal matters] Amendments, I have concluded that Eastman committed no crimes whatsoever in connection with the legal services he provided, and advice he gave, to his client Donald Trump.
As always, I welcome your comments (whether favorable or not) and your questions. I will, as always, try to answer all of them, although it may take some time.
 Harvey Silverglate
Conviction Machine: Standing Up to Federal Prosecutorial Abuse
A Must Read Co-Authored by Sidney Powell and Harvey A. Silverglate: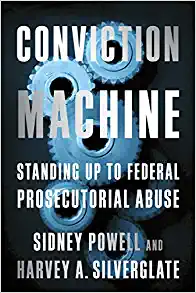 Licensed to Lie: Exposing Corruption in the Department of Justice
Best Seller: Author Sidney Powell